In addition to mailing out important information the bankruptcy court also sends a "Notice of Electronic Filing" to anyone who is registered to receive these notices via email.
You don't have to sign up to receive your notices via email, but you can. It's a good alternative to signing up for a PACER account as the email gets sent out as soon as something happens in the case.
The service is free. Simply go to https://bankruptcynotices.uscourts.gov/ and click on "Registration" and choose the option to receive notices at your email address:
After you click "next" you'll be given the chance to update your mailing address as well. Once done, you can choose whether you want to receive a new email with each new notice or prefer to get a collection of notices in one email.
In simple cases, there are rarely multiple notices per day. But, since that can be confusing (and since you're not getting charged), it's usually best to select the 3rd option: "Email with 1 link per email with 1 notice in the link." Then, you'll get one email per notice as shown in this sample: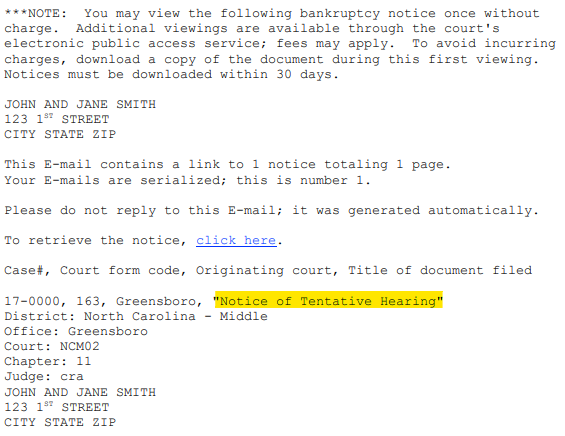 The name of the notice is highlighted in yellow. Clicking on the blue "click here" link will open a new browser window that has the PDF version of the notice. From there, it's as easy as saving the PDF document to your computer (or printing it out for safekeeping). You'll get it in the mail a few days later.
The benefit of signing up for electronic notices from the bankruptcy court is that they're sent out the same day. So, you'll know as soon as your discharge order has been entered, without having to worry about how long the mail will take.