When completing your Chapter 7 bankruptcy forms, it's important to include information about co-signers and co-owners of your property. This typically arises with respect to cars and car loans. The first thing you will need to do is determine whether you have a co-signer (also called co-borrower), a co-owner or both.
What is a co-signer
A co-signer, sometimes referred to as a co-borrower, is a person that has agreed to take responsibility for the loan if the primary borrower stops making payments. If you have a co-signer and you stop making payments on your car loan, the bank will look to them to continue making payments.
If you co-signed a loan for someone else, you are the one that took this responsibility in case they default. If you file Chapter 7 bankruptcy, your personal obligation to pay this debt will be
discharged
.
How to disclose a co-signer in your bankruptcy forms
If you're liable on a debt with someone else who is not your spouse, you have to disclose this fact by checking the correct box on your Schedule D or Schedule E/F: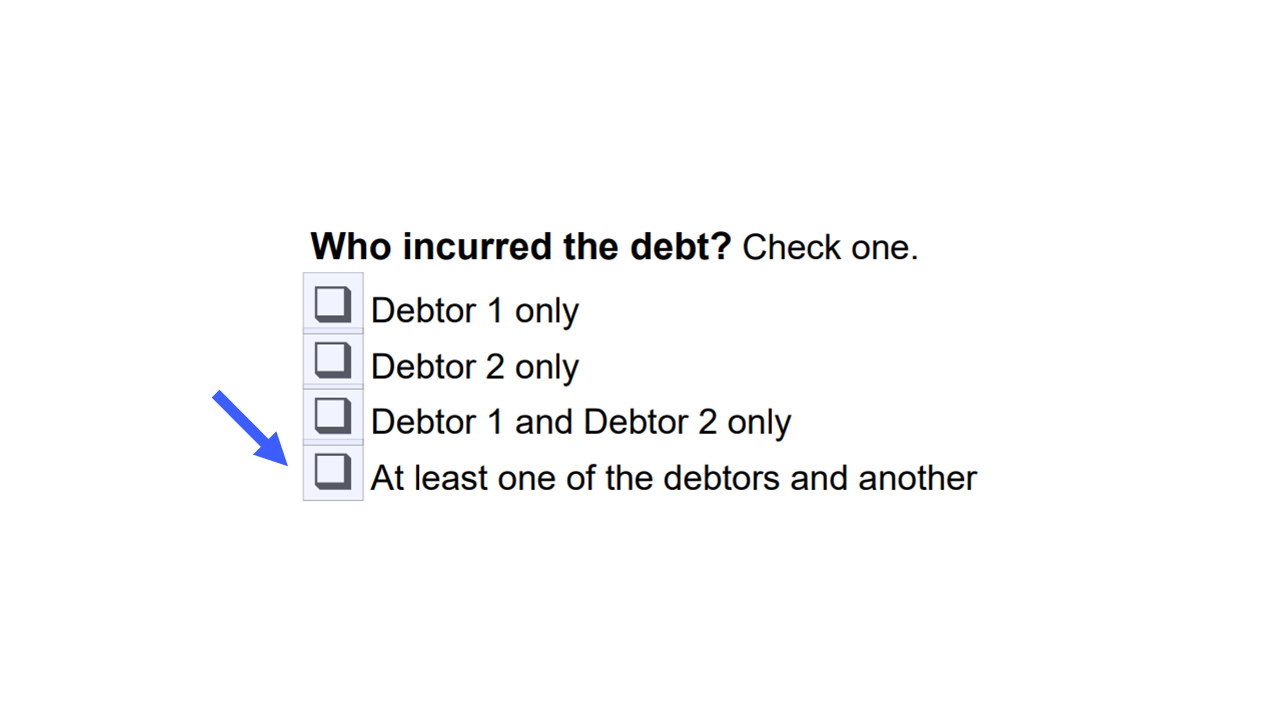 This is true whether it's a car loan, other secured debt or an
unsecured debt
.
You will also have to identify the co-signer on your Schedule H, first by disclosing that you have one or more co-signers in response to Question 1: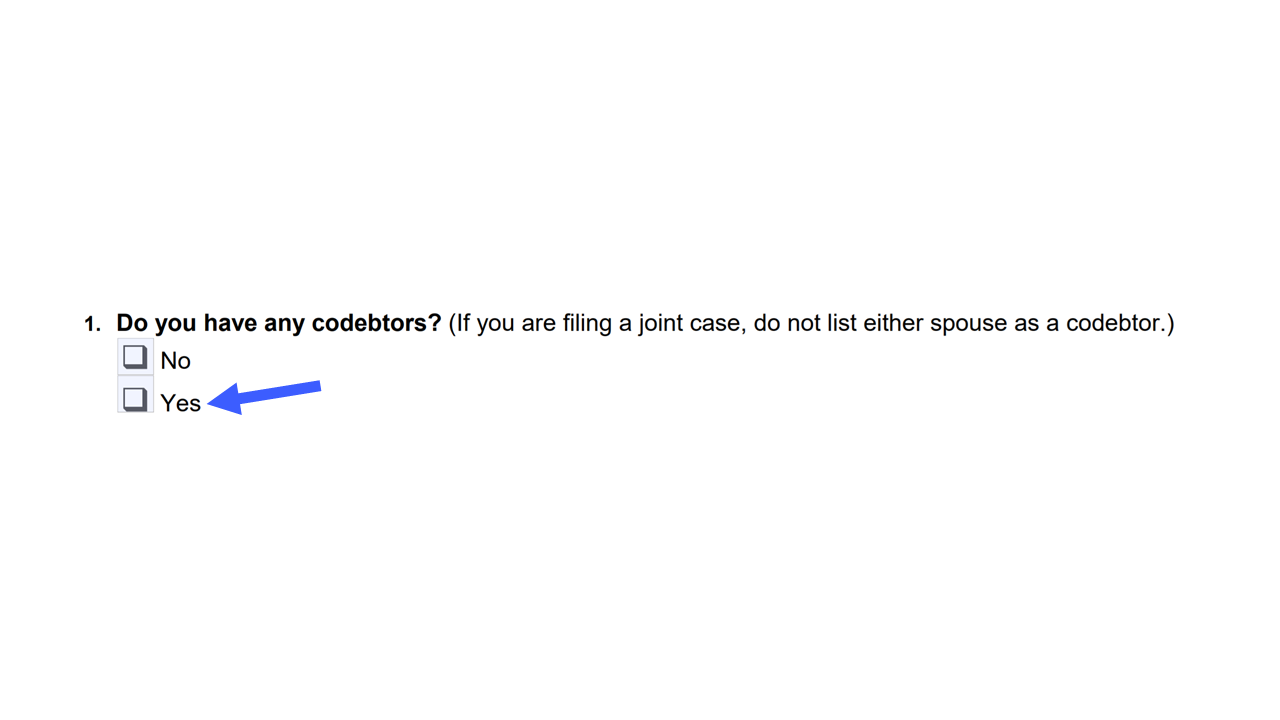 Then by providing the court with the name and address of the other person responsible for the loan: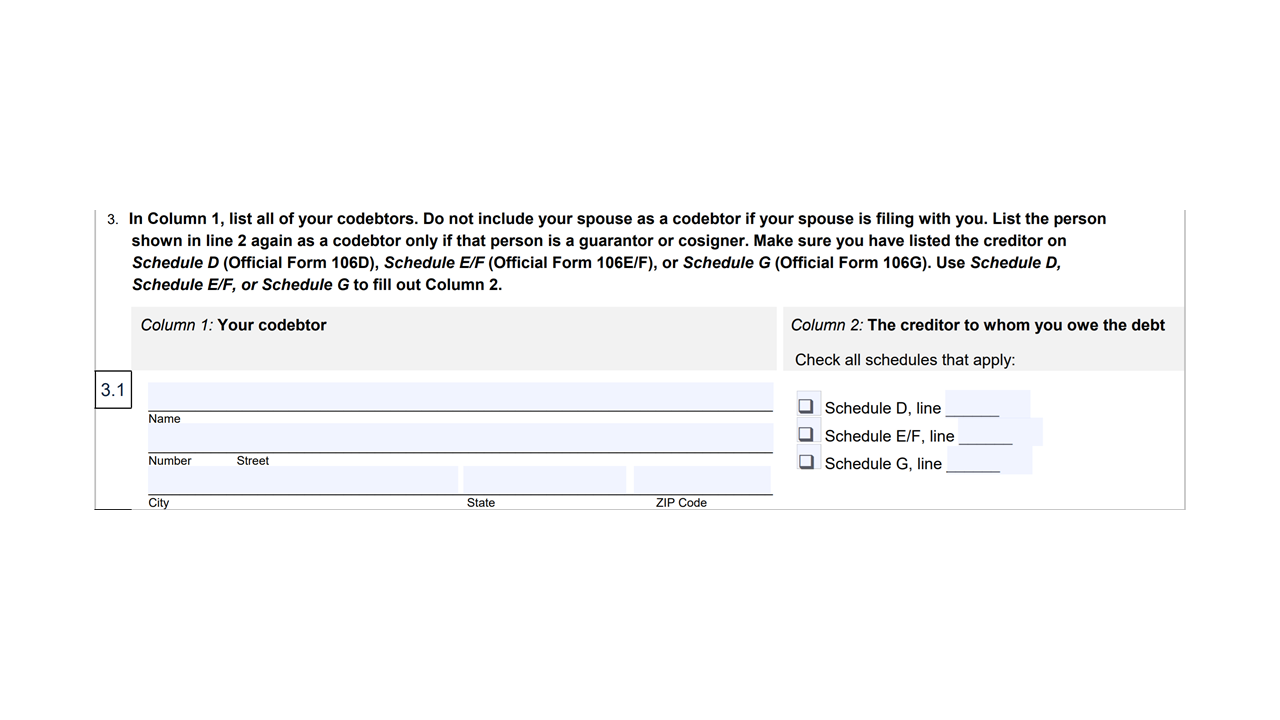 What is a co-owner
A co-owner is someone who owns an
asset
jointly with another person. In the case of a car, both the owner and the co-owner are listed on the title. You have to disclose the fact that another person owns the vehicle with you on your Schedule A/B: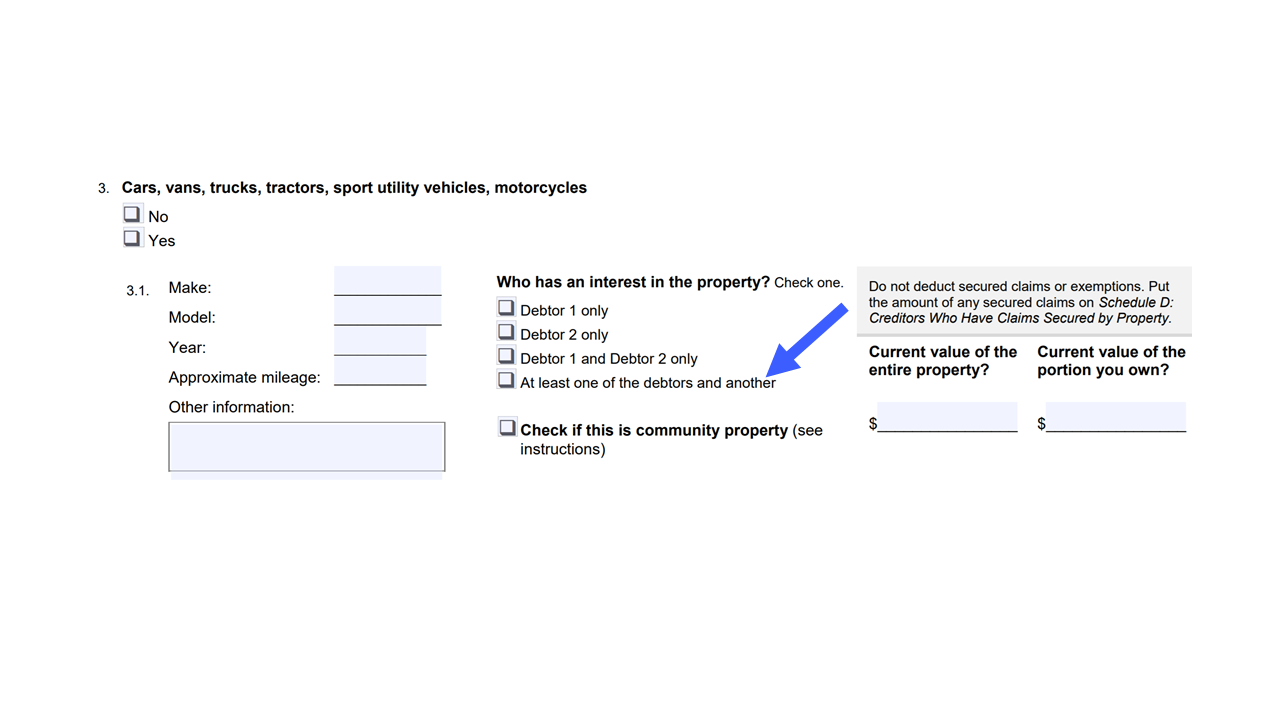 A lot of times the co-signer of a car loan is also a co-owner but that is not always the case. If you're not sure whether your co-signer is also a co-owner, check your title. If you don't have your title, contact your state's department of motor vehicles to find out.
What if I have a co-owner on a car that is owned free and clear
If the car is an old beater with a value well below the exemptions and it's your only car, then the exemption you claim on your Schedule C to protect your interest in the car is enough. But, if the car has a higher value, or it's not the only vehicle you own, consider speaking to a
bankruptcy attorney
in your area to find out whether the
bankruptcy trustee
may be able to claim all or part of the vehicle's value as an asset of your bankruptcy estate. This will help you make sure you know what may happen with respect to the car after your case has been filed so there are no unexpected surprises in store for you or your co-owner.